PI Damages in Scotland provides PI lawyers and claims companies with access to expert edited judgments with copious reference to case law. This service is kept up-to-date with three updates a year, at no extra cost
Join hundreds of our other customers using Bloomsbury Professional online to quickly and effectively search for the legal content they need to support their day to day client work.
Subscribers to Personal Injury Damages in Scotland loose-leaf can now access the online version of the same content in place of their paper releases (paper releases will cease from March 2023).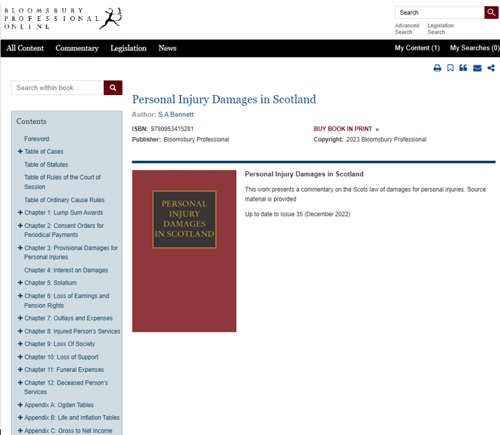 You will be able to navigate the content quickly via our easy-to -use platform either by searching or browsing from document to document. You are also able to save regularly referenced information for quick access later; or download to Word, print or email to colleagues in the same office. There is no training required and the Bloomsbury Professional team will be on hand to help if you have any queries.