Journal of Professional Negligence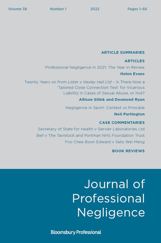 Frequency: Quarterly
Type: Journal
Format: Print
ISSN: 17466709

Pricing:
£500.00 (1 Year)
£950.00 (2 years)


Authoritative comment and analysis delivered to your desk, 4 times a year
This unique quarterly journal is the leading forum for commentary and analysis on all areas of professional negligence and professional indemnity, including liability, ethics and regulation. Cutting across all professions, with that term being interpreted broadly, it provides excellent coverage of the numerous and significant developments in this field.
Coverage includes wide-ranging commentary and analysis on:
the private law liability of professionals
the various regulatory and disciplinary contexts with which different professions operate
the concept of 'professions' from a socio-legal perspective
the wider social and ethical challenges to the work of the professions and the impact of those challenges within the relevant existing legal framework
general issues in the law of obligations which inform the legal context within which professionals operate.
Comparative work on the Commonwealth
In addition to focusing on developments in the law of England and Wales, the journal also includes comparative work on professional liability, ethics and regulation from the Commonwealth and beyond
This is an invaluable title for all practitioners and academics in this area.
About the Editors
Isabel Barter is a Barrister at 2 Temple Gardens with a broad commercial and common law practice. She is a recognised specialist in professional negligence, product liability and property damage litigation, and she is an expert contributor to Professional Negligence and Liability (ed. Simpson QC).
CP McGrath is a Senior Lecturer in Tort Law in the Dickson Poon School of Law at King's College London. His research focuses broadly professional negligence in both the UK and leading European legal systems, with a particular interest in the liability and regulation of the medical profession.
Case Digests Editor - Ben Phelps, Barrister, 2 Temple Gardens
Case Notes Editor - Dr Gemma Turton, University of Sydney Law School
Deputy Case Notes Editor - Dr Samantha Schnobel, Lecturer, Birmingham Law School, University of Birmingham
Scots Case Notes Editor - Dr Bobby WM Lindsay, Lecturer in Private Law, University of Glasgow
Book Reviews Editor - Dr Phillip Morgan, Reader in Law, University of York