Our Scottish Law Service provides instant online access to content from Scotland's leading experts in all key areas of practice. This is the ideal resource for firms of solicitors who are looking for a full digital library of authoritative titles and legal content covering all areas of Scots Law.
Subscribing to our Scottish Law Service will enable you to:
access a full library of leading Scots law texts and content at the touch of a button
easily share content with colleagues or clients even if they don't subscribe themselves
access the full research power of the site whenever you need it from your desktop, tablet or smartphone
build your own set of frequently used documents and easily bookmark them or add to your favourites list
New/Forthcoming Content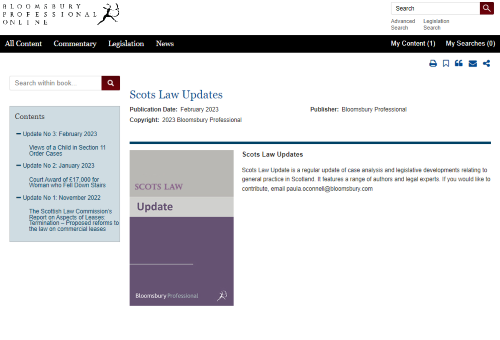 New editions will automatically be added to the Scottish Law Service throughout your subscription year at no extra cost:
Coming in this subscription year
• Sudden Deaths and Fatal Accident Inquiries in Scotland 
• Mental Health, Incapacity and the Law in Scotland 3ed 
• Adult Protection and the Law in Scotland 3ed 
• Human Rights Law in Scotland 5ed
• Wheatley's Road Traffic Law in Scotland 7ed 
• The Scottish Legal System 7ed 
In addition, certain works are updated throughout the year eg all tax titles, PI Damages in Scotland and Scottish Older Client Law Service. Scots Law Update is updated monthly with case summaries, interim updates on key areas of practice and topical articles from leading authors.