Journal of Immigration, Asylum & Nationality Law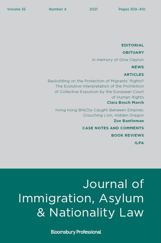 Frequency: Quarterly
Type: Journal
Format: Print
ISSN: 17467632

Pricing:
£385.00 (1 Year)
£740.00 (2 years)
ILPA members receive a 15% discount*
Authoritative comment and analysis delivered to your desk, 4 times a year
The Journal of Immigration, Asylum and Nationality Law is the official journal of the Immigration Law Practitioners' Association (www.ilpa.org.uk). It is a unique and highly regarded peer-reviewed quarterly journal and is essential reading for anyone who needs to keep abreast of the numerous and significant developments in immigration law and practice, or to gain insights into the policy background and wider social context of the law.
It publishes high quality original articles, expert commentary on case law, book reviews and news updates. This is all delivered in a clear and accessible format. It also reflects the increasingly important European and international dimension of immigration law, giving news and views from around the world.

This journal addresses numerous immigration related statutes, the immigration rules and Home Office policy, and will help you to:
• Understand developments and problems in British immigration law
• Appreciate the background policy and social context
• Keep up to date with new cases and legislation
• Gain insight into developments in European and international law and in other jurisdictions
Editorial Team:
The editorial team is comprised of highly respected academics and practitioners, who will help you to engage with both practice related and academic issues.

The team are: Jim Gillespie, Barrister (non-practising); Helena Wray, Associate Professor in Migration Law, University of Exeter; Alan Desmond, Lecturer. University of Leicester; Katie Dilger, Solicitor, Wesley Gryk; Gabriella Bettiga, Solicitor; Zoe Bantleman, Barrister; Jonathan Collinson, Senior Lecturer, University of Huddersfield; Adrian Berry, Barrister; Alison Harvey, Barrister, No 5 Chambers; Bernard Ryan, Professor of Law, University of Leicester; Dallal Stevens, Professor of Law, University of Warwick; Duran Seddon, Barrister; Eddie Bruce-Jones, Lecturer in Law, Birkbeck College; Elspeth Guild, Solicitor; Laurie Fransman, QC; Marie-Bénédicte Dembour, Professor of Law and Anthropology; Ramnik Shah, Solicitor (non-practising); Raza Husain, QC; Sadat Sayeed, Barrister; Sheona York, Solicitor, Kent Law Clinic; Steve Peers, Professor of Law, University of Essex; and Werner Menski, Emeritus Professor, SOAS.
*ILPA members receive a 15% discount.
To take up this offer email [email protected], state your request to subscribe to the Journal of Immigration, Asylum and Nationality Law and quote BPILPA15