Journal of Computer, Media and Telecommunications Law
Editor in Chief - Dr Peter Coe, University of Reading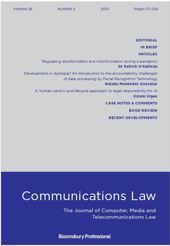 Frequency: Quarterly
Type: Journal
Format: Print
ISSN: 17467616
Pricing:
£560.00 (1 year)
£1,070.00 (2 years)
Authoritative comment and analysis delivered to your desk, 4 times a year
Communications Law is a well-respected, peer reviewed, quarterly journal covering the broad spectrum of legal issues arising in the telecoms, IT and media industries. Each issue brings you opinion and discussion from the field of communications law.
Benefit from:
•  Editorial comment
•  Coverage of pertinent UK and international issues
•  Authoritative commentary and analysis
•  First-hand experience in the field from a dedicated panel of industry experts
Make sure you are up-to-date with the legal issues affecting your company, right now.
Editorial Board
Paul Chamberlain, JMW Solicitors
Clive Davies, Fujitsu Services
Brian Dowrick, University of South Wales
Faith Gordon, ANU College of Law
Howard Johnson, Cardiff Law School
Rebecca Moosavian, University of Leeds
Rem Noormohamed, Fieldfisher
Laura Scaife, Solicitor
Judith Townend, University of Sussex
Paul Wragg, University of Leeds
Campbell Deane, BKF & Co